The Washington, DC Chapter of the Internet Society describes the 2013 Internet Freedom Fellows as "Six Heroes Of The Internet" who are working hard to route around firewalls and filters in other to go about their online activities in promoting Human Rights, Innovation and Freedom of Speech both Online and Offline. There's an informal discussion and reception hosted in our honor at the George Mason Univers...
I'm very honoured and privilege to be part of the 2013 Internet Freedom Fellowship program by the Office of Public Affairs at the U.S. Mission to the United Nations. The fellowship follows up on the US Ambassador to the United Nations Human Rights Council - Amb. Eileen Chamberlain Donahoe's pledge to find innovative ways to promote the use of the Internet in support of Human Rights issues and Innovati...
On Wednesday, February 13, 2012 a new TV series that is part drama, part documentary, part discussion aimed at educating the general public on The Millennium Development Goals (Maternal Health issues) was launched in Accra. My good friend Ivy Prosper is working on this year-long project which is documenting challenges women in Ghana's rural villages face during pregnancy, access to health-care and childbirth. T...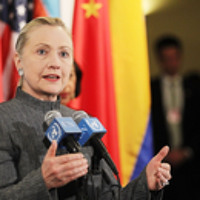 Hillary Clinton steps out of the political spotlight today, as she departs from the U.S. State Department after four years as secretary of state. From her contentious start as first lady, in 1992, to her historic run for the White House, to the highest ranks of the federal government, Hillary Clinton has had quite a political career — one that may continue, in 2016. In her four years as secretary of state, Hilla...
Today - January 31, 2013; I was on panel with Prof. Kwame Karikari and Tope Ogundipe (Nigeria) to discuss Cybersecurity, Cybercrime and Internet Freedom at the West Africa Cybersecurity & Cybercrime Workshop which ended in Accra, Ghana. I lot had been said in the past 2-days on the topic but I still got the chance to put some ideas across to the invited guest and audience this morning. Below are my thoughts ...