November 22, 2021
666 Views
Chango App, a new mobile crowdfunding platform established by the Ghanaian IT Consortium, allows people and groups to raise money for a predetermined campaign.
A new mobile app named Chango, a crowdfunding platform has been released by IT Consortium, one of Ghana's leading producers of digital financial solutions. Chango enables people and organizations to organize private or public groups to raise money for a preset campaign.
Despite not having been officially released, the programme is already available on the Google Play Store and the Apple Store. Unlike some other crowdfunding websites, it is free to use.
Over 2,000 organizations are currently using Chango, including 13 public groups and over 700 private ones, to raise money. Users can contribute, payout, and borrow from the groups by adding campaigns that allow for these actions.
Presently, there are two major public fundraisers on the app: one for victims of the recent Keta, Ketu South and Anlo tidal waves, and one for the Korle-Bu Cardiothoracic Center.
Contributions 
Chango provides a place or outlet for people to pool their money utilizing bank cards or mobile money. For private groups, each person is permitted to donate up to GHC 2,000 per day, whereas for public fundraisers, each person is permitted to donate up to GHC 20,000 per day.
Chango does not impose any restrictions on the amount one fundraising campaign may raise, and all donations go into a bank account, unlike mobile money, which has limits on how much a wallet can carry depending on the condition of the wallet.
Cash Out
Additionally, it contains a function that enables quick cashing out of funds. The cashout receiver can be divided into three groups: "Self," "Member," and "Non-member," and they can choose to get their cash out via bank account or mobile money.
A group member can also borrow money from the group using the app, exactly like in a traditional susu setup. Before the money is issued, this request must be approved by the group's loan approvers. Additionally, money borrowed might be repaid by making a donation to the organization or cause from which it was taken.
Voting
Additionally, it contains a voting system that allows group members to approve or disapprove of how the funds are managed. With the help of the Group Chat function, group members can communicate with one another without using a separate messaging service.
To facilitate adequate fund monitoring and convenient record reconciliation, the app offers group and individual statements of accounts.
Use Cases
Chango, according to IT Consortium, is built with features that let a variety of people form contained groups to contribute to any predetermined cause.
Families can also use Chango to contribute money for school tuition, child support, funeral arrangements, and other things. Alumni or old school groups can use Chango to collect dues and raise money for celebrations, parties, or even a project.
It can also be used by coworkers at work or school to support one another through weddings, funerals, and childbirth; by churches to collect offerings, tithes, and dues; by entire associations or cooperatives to collect dues; and by susu groups to collect savings, among other things.
Some user groups, such as NGOs, Support groups, Alumni or old school groups, governmental bodies like NADMO, and churches, can also create public groups that are accessible to all users and allow them to support a cause. They are not required, as in the case of private groups, to restrict contributions to a small number of group members.
How To Use Chango App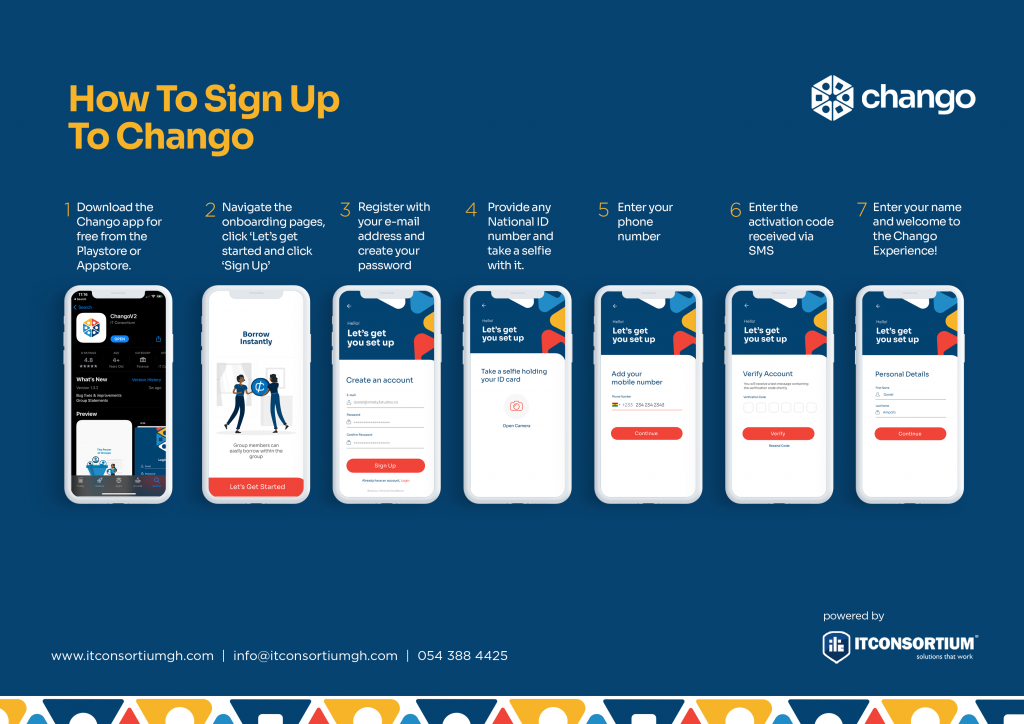 Chango is currently only available online and can be used in any nation, but for the time being, cashouts can only be made in Ghana and Kenya.