April 3, 2022
1124 Views
Monterosa, a cloud-based technology service provider, is establishing an engineering hub in Accra, Ghana, as the company expands into new worldwide markets.
A cloud-based technology service provider, Monterosa which provides real-time engagement for major sports and media organizations that want to build valuable direct audience relationships has raised £3.5 million ($4.5 million USD) in growth capital to accelerate the development of its Real-time Engagement (RTE) platform and propel the company into new global markets.
Following their announcement on March 22, 2022; the organization has decided to open up an engineering hub in Accra, Ghana.
According to Tom McDonnell, CEO of Monterosa; "Ghana has long-since been a buzzing centre for education — people from all over the world come to learn. Private and public tertiary education is everywhere, with stand-out institutions including Ashesi University, Codetrain and incubator MEST. In Ghana, it's cool to be clever."
"Global demand for software engineering skills outstrips supply, exacerbated by the heartbreaking events in Ukraine. Alongside the human tragedy unfolding, businesses, particularly tech companies, face even more pressure to find, and develop talents." he added.
Unlike outsourced or in-house builds solutions, Monterosa's platform provides a quick time to launch as well as a suite of gamification, participation, interactive video, and sports data visualization Experiences, all with a simple subscription and support approach.
Why An Engineering Hub in Ghana?
Accra, Ghana's main capital city, currently has widespread access to both fast fibre and robust 4G connectivity via companies such as Vodafone and MTN.
According to the Minister of Trade and Industry, Alan John Kyerematen; "Ghana's recent appointment to host The Secretariat of the African Continental Free Trade Area aligns with…efforts to improve and tailor our service across Africa."
This rise in infrastructure has aided the emergence of flexible working, co-working spaces, and communities of enthusiastic engineers and technologists. Excellent startups such as mPharma, Farmerline, and ExpressPay Ghana have grown, paving the door for new ambitious initiatives such as fintech Dash, which just secured $32.8 million.
If Ireland, with a population of 5 million people, can develop behemoths like Stripe and Intercom, Ghana, with a population of 30 million, can produce far more in the coming decade.
Football is a religion in Ghana, and the tie between sport and technology could not be more essential to Monterosa, and having team members who are fans is quite advantageous.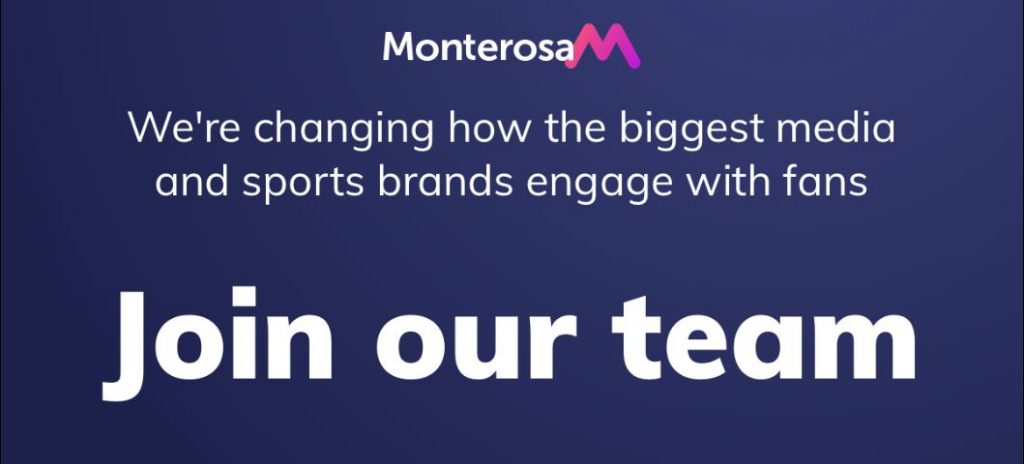 Hiring Developers in Ghana
In light of the above news, Monterosa is currently hiring for mid-senior levels with 3 – 4 years' minimum experience with the following skill-sets:
JavaScript / React
iOS (Swift)
Android (Kotlin)
QA Engineering
UX Design
Interested in any of the above openings, kindly email a brief, up-to-date CV to careers-ghana@monterosa.co. Applicants must be in possession of a Ghana card, a work permit, and must reside in the Greater Accra Region.