December 9, 2019
2003 Views
Ghana's National Communication Authority (NCA) has fined MTN Ghana over GHC100,000 for failure to comply with regulations that protect customers.
The telecommunication giant, MTN Ghana has been fined over GHC100,000 (USD $17, 500) for its failure to follow the regulatory directives by Ghana's National Communications Authority (NCA).
According to the statement released by the NCA, MTN failed to report the inaccurate billing of subscribers when purchasing service bundles and also had issues with customer care lines being inaccessible to subscribers.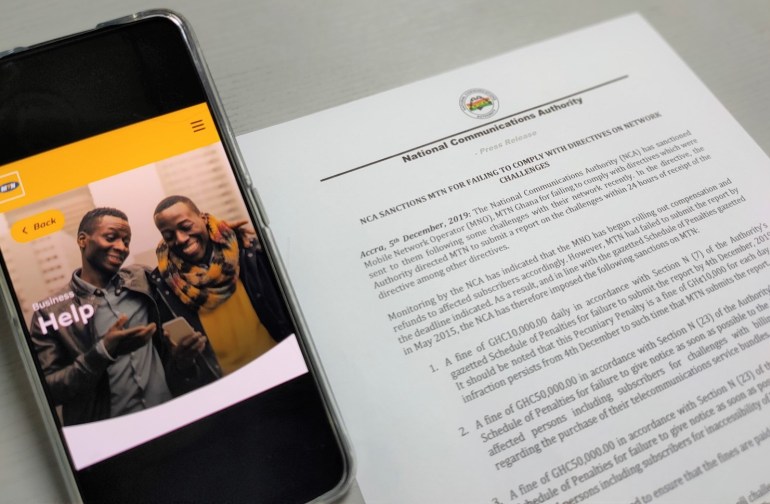 The regulatory body reported that subscribers flooded them with complaints about the issues which started on December 1, 2019.
The body added that they ordered MTN Ghana to submit a report on the network challenges it had faced within 24 hours of receiving the directives but they failed to do so.
The breakdown of the punitive measures imposed on MTN Ghana includes a daily fine of GHC10,000.00 for every day that they failed to submit the report the NCA demanded.
A fine of GHC50,000.00 for failing to report the inaccessibility of customer care lines to the NCA immediately it was discovered and GHC50,000.00 for the mobile operator's failure to give notice of the challenges with billing inaccuracies concerning subscribers' issues with purchasing telecommunications service bundles to NCA.
Y'ello! We're grateful for the feedback and comments. We've taken note of your issues and we're working around the clock to resolve them. #WeDey4U pic.twitter.com/yd52iMBKMm

— MTN Ghana (@MTNGhana) December 2, 2019
MTN's History of Regulatory Fines
MTN has a history of getting caught up in fines from regulatory bodies in Africa and the fine NCA imposed on MTN Ghana is one among many.
In 2015, Nigeria's communication regulatory body, NCC issued MTN a hefty fine of $5.2 billion over failure to deactivate 5 million unregistered sim cards. A fine which was recently paid after being reduced to an agreed sum of GHC 5.1 billion.
Also, in September MTN South Africa was fined R5 million ($340,000) by South Africa's ICASA Complaints and Compliance Committee (CCC) for not observing the required notice period before increasing the price of its 1GB WhatsApp data bundle.
MTN's latest regulatory breach means that over GHC100,000 in fines will have to be paid to the regulatory body.
The NCA has given MTN Ghana until the close of business on Monday, December 9, 2019, to pay the fines.